Street Outlaw's Big Chief and Chucky Collide During Filming
Late Saturday Night November 14th, 2015 during filming of Discovery Channel's Street Outlaws street racing reality TV show; Justin "Big Chief" Shearer wrecked The Crow after colliding with the opponents' Mustang driven by Brian "Chucky" Davis. Both Shearer and Davis survived the crash and are being treated at a local hospital. Justin Shearer has suffered pulmonary contusions, spinal cord injuries and a broken collarbone. He is lucky to be alive. Brian Davis also suffered injuries, but at this time the extent of his injuries are unknown. Rumor's are that he too has sustained back injuries. Reports state that Brian 'Chucky' Davis was racing Justin 'Big Chief' Shearer when Davis' Fox-Body Mustang nicknamed "Chucky" crossed over the center line of the road and hit the rear of Justin "Big Chief" Shearer's 72 LeMans which he calls "The Crow". Big Chief's car flipped over and went into a ditch. While Chucky spun out of control over a curb and laid to rest in a near by grassy area. BoostedGT recently wrecked his car on October 25th, Click for more details.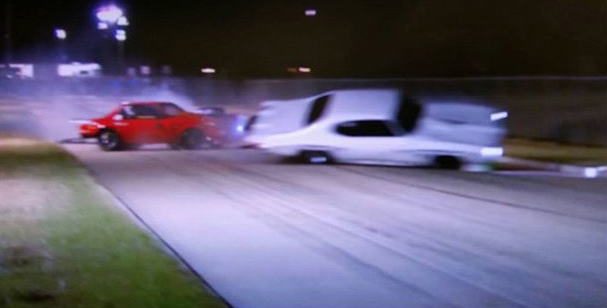 Seen on Street Outlaw's Season 7


Justin Shearer posted to his Facebook on Sunday to give an update of his status.

"THANK YOU EVERYONE…. I'm pretty beat up right now. Just woke me up for some breathing treatments. Pulmonary contusions (bruised lungs). Crushed my L2 and L3 in my back, broken collarbone, and pretty beat up, but so thankful to be alive right now.
'They got me on nonstop oxygen and another round of cat scans, and X-rays coming up. The surgeon doesn't believe I will need back operation anymore, but they are going to keep me in the hospital again tonight to keep an eye on the lungs, YES I WILL BE BACK!"
Big Chief noted that Go Fund Me campaigns were set up for him but that he does not know who created the campaign in his name and instructed everyone not to donate since he is not affiliated with them.

"The GOFUND ME CAMPAIGNS were not created by my people or family… I have no idea about them, please KEEP YOUR MONEY. I will update everyone as is get info from the Doctors! The CAGE and safety equipment saved my life!," he wrote.
Big Chief Remembers First Getting "The Crow"

Recently posting on his Facebook "The Crow 405" page:
"Sitting in this hospital bed, super bored and can't sleep looking at pictures of my destroyed crow. I start thinking about every great time I've ever had in that car. To a lot of people, driving a car is just the way to a destination. To me, I would pick destinations just for a way to drive my car. This is a terrible picture but I believe it to be around 1995-1996. That's me on the far right, and flip in the middle. Pretty sure Johnny Holley is on the left side of the pic. We had some amazing times in that car. From learning to drive, going to second base, finding lifelong friends and eventually starting a family……all the way to getting the TV show and starting a shop. That car was my transportation thru life to get to this current destination. Flip is gone, and now The Crow is gone as well. I'm so lucky to have been able to share a great part of my life, with them both."
Street Outlaw's Big Chief and Chucky Street Racing Wreck Photos
Big Chief also said he is lucky to be alive and that the cage and safety equipment saved his life.This wasn't the first time there has been a serious crash while filming the Street Outlaw's drag racing show. In August, driver Daddy Dave was left with a concussion after participating in a No Prep Armageddon at the Amarillo Dragway in Texas. He lost control of his car after the start of the race, crashed into a wall, and did several barrel rolls before his crushed vehicle stopped. Daddy Dave wreck's Goliath at No Prep Race August 1st, 2015: Click Here for details and footage of the accident.
Street Outlaw's Big Chief and Chucky Crash Video

Street Outlaw's Big Chief Talks About The Crash with Brian Chucky Davis

Buy Street Outlaws Gear Online

Share This With Your Friends!