Top Ten 80s American Sports Cars
The Top 10 Best 1980s American Made Sports Cars

The 1980s was the great transitional decade for sports cars. Especially since the classic muscle car was no longer the dominant car on dealers showroom floors across the country. In the 1980s it was all about Sport Sedans, Hot Hatchbacks and some mid-engine coupes sharing the floor with the "ground pounders". Many consider the 1980s to be a low point in American produced performance cars, it was actually a very important decade. This time period helped auto makers transition from the more traditional large displacement gas guzzlers to more economically friendly options. Some of the honorable mentions that didn't make the list but were still great cars in their own rights are Pontiac Grand Prix McLaren Turbo, Dodge Shelby Dakota, Chrysler Conquest and the Merkur XR4Ti. So read on and see what cars made the Top Ten 80s American Sports Cars list.
10. 1989 Ford Thunderbird Super Coupe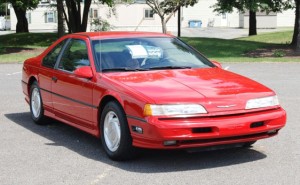 This year was the 10th generation which meant the Thunderbird got a longer wheelbase and a more aerodynamic body. Before the Super Coupe was the Turbo Coupe, a SVO Turbocharged 4 cylinder. The Super Coupe was powered by a 3.8-liter supercharged V6 that made 210 horsepower and 315 lb-ft of torque. That was only 15 horsepower less than the 1989 Mustang GT 5.0-liter v8. For the time those were impressive numbers. Thunderbird Super Coupe's also cam with limited-slip rear-differential, anit-lock brakes, stiffer suspension, shirt package and had an optional T-5 five speed manual transmission. The 1989 Thunderbird Super Coupe sold for $19,823.00.
9. 1987 Dodge Daytona Shelby Z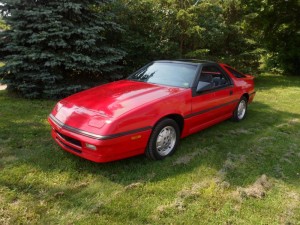 This sport compact hatchback was first introduced in 1984. It had always been available with a turbocharged option. But in 1987 the turbo 4 cylinder engine option was taken to the next level. The Daytona Shelby Z was powered by a 2.2-liter turbocharged engine pumping out 174 horsepower and 200 lb-ft of torque. Pretty impressive for a 4 cylinder in 1987 considering the Corvette with a 5.7-liter v8 only produced 66 more horsepower. With power to weight ratio considered those two cars probably would have been a pretty close race. This lightweight hatchback was a good overall performer which also included suspension upgrades to improve handling and straight-line performance. The 1987 Daytona Shelby Z's sold for $12,749.00.
8. 1989 Chevrolet Camaro Iroc-Z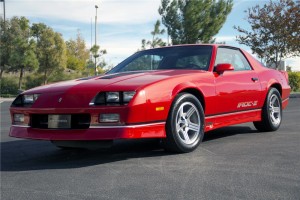 The 80s weren't the best decade for the Chevy Camaro, but they made improvements throughout the decade. When the Iroc-Z came out in 1989 it came with the race-ready 1LE option which turned the Camaro into a track-ready warrior. Remember the IROC racing series? IROC stood for International Race Of Champions. In this series champion drivers from racing series all over the world competed in a basically stock Camaro IROC equipped with a safety harness, roll-cage and racing tires. It was powered by a 5.7-Liter V8 Tuned Port Injection making 230 horsepower and 330 lb-ft of torque. A 1989 Corvette would only gain you 10 horsepower, so the IROC-Z was a great buy for the money. The 1989 Camaro IROC-Z Sold for $14,145.00.
7. 1989 Ford Taurus SHO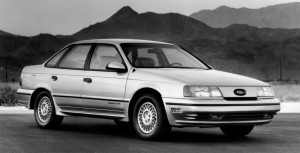 The Taurus was undoubtedly your average family sedan, but when you slapped the SHO option on, it becomes quite the sleeper. The SHO was powered by a 3.0-Liter V6 with a redline of 7,000 rpm, a very impressive redline for the late 80s considering the "powerful" V8's could barely make power past 6,000 rpm. It made 220 Horsepower and 200 lb-ft of torque. Thats only 5 less horsepower than a 89 Mustang GT 5.0-Liter v8! The only transmission available was a five speed manual and the SHO distinguishable bodywork. Many people had said the SHO was equal to European sports sedans of the same era. The 1989 Ford Taurus SHO sold for $19,739.00.
6. 1986 Dodge Shelby Omni GLHS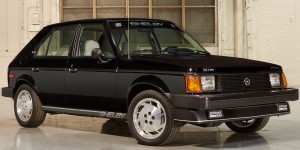 Carroll Shelby got his hands on the compact cars in the 1980s and the Shelby Omni GLHS was another great result of Shelby's knowledge. This car only weighted 2200lbs so you can bet that it put alot of shame on many of the more powerful and more expensive sports cars of the era. The Shelby Omni GLHS was powered by a 2.2-liter turbocharged 4 cylinder making 175 horsepower and 175 lb-ft of torque. The power to weight ratio in this little car truly made it a pocket rocket! The 1986 Dodge Shelby Omni GLHS was sold for only $7,918.00.
5. 1988 Pontiac Fiero GT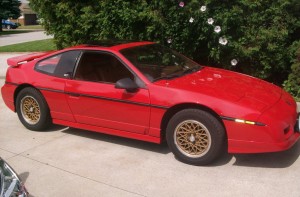 1988 was the final year for the Fiero, but Pontiac upgraded it sending it out with a bang. The suspension was revised to improve both driveability and handling. Also the brakes, steering and engines were all upgraded. The Fiero Gt was powered by a 2.8-liter V6 engine making only 140 horsepower and 170 lb-ft of torque. But since it was a mid-mounted engine and weighted less than 2,800 lbs it had great balance and handling which made it a blast to drive. The 1988 Pontiac Fiero GT sold for $13,999.00.
4. 1989 Chevrolet Corvette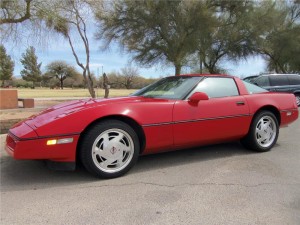 Just like the Camaro in the 1980s the Corvette suffered through a lot of dark days too. It was still considered one of the best American made performance vehicles in it's era. 1989 was the first year the Corvette would receive a proper six-speed manual transmission. The standard model was powered by a 5.7-liter V8 making 245 horsepower and 345 lb-ft of torque. The new six-speed transmission gave the Corvette a better match and improved straight-line performance. The 1989 Chevrolet Corvette sold for $31,545.00.
3. 1989 Pontiac Turbo Trans Am

The fastest American Sports car in 1989 wasn't the Chevrolet Corvette, hard to believe? Well the Turbo Trans Am was the fastest, equipped with a high-performance 3.8-Liter turbocharged V6 engine that had been borrowed from Buick. The engine produced 250 horsepower and 340 lb-ft of torque @ 5200 rpms, but most people considered these numbers to be underrated. Many would come to say the horsepower was closer to 285 based upon dyno results. Perhaps GM did this because it didn't want to shame it's famed Corvette? Unfortunately the Turbo Trans Am didn't have a manual transmission option, regardless it was still a fast car and fun to drive. The 1989 Pontiac Turbo Trans Am sold for $29,839.00
2. 1987 Ford Mustang GT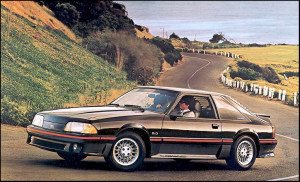 Many people would consider the fox body Mustang to be the poster child of American sports can performance in the 1980s. The mustang was everyone, maybe due to it costing several thousand dollar less than the Camaro? Either way it seemed that everyone either had one or knew someone that did. There were a variety of engines offered in Mustangs in the 1980s. Well in 1987 the 5.0-Liter V8 engine was upgraded to 225 horsepower and 300 lb-ft of torque and the body had received the "aero" face lift. Also these cars came with the T-5 five-speed manual transmission. In fact it's safe to say that more Mustangs were sold with manuals than with automatics. Along with this and their lighter weight it made the Fox Body Mustang a famous choice for drag racers then and even now still to this day. The 1987 Ford Mustang GT sold for $11,835.00.
1. 1987 Buick GNX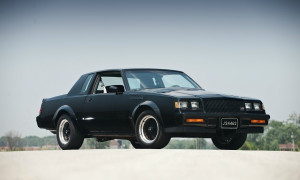 If you're a muscle car fanatic you probably guessed the GNX might top the list. We've seen this cars in low mileage original showroom quality condition go for over $100k at auction. A sign that this was the baddest and most iconic American sports car of the 1980s. In fact many people have come to say that the only reason the GNX was killed was because it out performed GM's famed Corvette, oh shame on you Buick! The GNX was powered by a 3.8-liter turbocharged V6 engine that produced 276 horsepower and 360 lb-ft of torque. The same engine that the Turbo Trans Am used and that has been said to be severally underrated. The 1987 Buick GNX sold for $29,290.00.