Top 5 Best Cold Air Intake Systems Period!
Introduction


Cold Air Intake systems are usually the first performance modifications that people do to their vehicles. It helps your car's engine breath in colder more dense air into the combustion chamber, allowing it to create more horsepower. It has also been documented to help with fuel economy on some vehicles. If you don't want to read through everything here then reference the table of contents over to your left to skip to whichever section interests you.
What Does a Cold Air Intake do for my Vehicle?

Usually the best effect of and want from consumers of adding a CAI is the additional sound it adds over the stock air box system, which are designed to muffle the air intake sounds. Average horsepower gains for most cold air intake systems are 5-15 horsepower depending on the factory engine, which is hardly enough to notice much of a difference on the acceleration side of things.
Increase in horsepower
Noticeably better throttle response
Better fuel economy
Life-long lasting washable performance air filter
Increase in engine sound, added "grunt"
Custom looking engine bay
Specifically engineered intake for your vehicle
Simple easy to follow installation process
How do Cold Air Intakes Improve Performance

In order to run to max potential your vehicles engine needs the right balance of fuel to air mixture, or Air Fuel Ratio as it is called. This helps to maximize the combustion of fuel into the combustion chamber, which is inside the engine between the piston and head where the spark is created. The factory intake box typically comes with a paper filter, which are known to restrict air flow and don't last very long before needing to be replaced.
Factory intake tubing usually is not a direct path of air flow into the engine. Manufacturers will do this on purpose to reduce engine noise. Well this benefits you're comfort level, it hinders performance. So if you're looking for a little boost then you'll want to get a cold air intake. This also causes the air going into the engine to be warmer causing the fuel to air ratio to become richer. Although when a car runs on the richer side, it's considered to be "safer" leaning out this mixture slightly with colder air will help result in better performance. But don't worry because this is not at all enough to cause any damage.
Cold Air Intakes will take away all of these "problems" all at once. The factory intake tubing is replaced with a more direct path into the engine and are usually a larger diameter which of course allows for more air to get into the engine. Along with this, they'll come with better high flowing performance air filters. This results in higher air flow, which allows for more oxygen into the combustion chamber increasing the efficiency of air to fuel ratio maximizing the engines power.
Depending on your budget and car, some of the Cold Air Intakes will actually relocate the location of the air filter into the fender or bumper where more air is available. This will create flow of even cooler denser air into the engine. Overall manufacturers have tested both of these methods and each type of vehicle. If they've seen a significant benefit of air box relocation, while then you'll see a kit like that for your specific combination.
How Cold Air Intakes increase fuel economy

By fine tuning your air to fuel ratio you'll have less wasted fuel from a factory "richer" tune. Some tests conducted by companies like K&N and AEM have shown a 1-2 miles per gallon improvement in fuel economy. Tests were done so with the same driving habits going unchanged.
While you've probably heard this to be a myth, the truth is that with a new Cold Air Intake, you'll likely be invited to punch the throttle more often which actually results in worse fuel economy. So you can either keep on with your lighter driving to recoup some gas mileage savings at the pump or you can enjoy your new found performance and race around everywhere you go. Just watch out for those undercover Mustangs and Chargers.
Why cold air intake performance filters are better

An air intake system starts with the air filter. When you get your performance air intake system you'll notice a big difference in the air filter over stock. Cold Air Intakes will typically some with a "cone" air filter. All of the grooves and folds along the filter allow for more surface area for air to get drawn into the intake tubing. This is also an area were dirt can get trapped, which is better than going into your engine.
These performance air filters are cleanable and allow for higher air flow at the same time. Unlike paper filters that get junked up and have to through away, these air filters easy to clean. Usually you can just blow out the dirt with some compressed air. If you don't have access to a air compressor then you can pick out the dirt or use high pressured water like your household garden hose.
While stock paper air filters generally have to be trashed after 15,000 miles, the reusable performance air filters that come with the intake system only need to be cleaned about every 30-50,000 miles. This all depends on each manufacturers suggested uses and how clean your driving environment is. Many of the intake companies offer cleaning and re-oiling kits for their Air Filters.
Some of these performance air filters even come with some pretty large warranties. For example one of the best know companies, K&M guarantees some of their filters for up 1 million miles! So now with your new performance air intake, you'll be saving money in the long by not having to replace air filters all the time.
If you're not in the market for a new intake, many companies offer stock "drop in" replacement air filters. These are the same size as your stock paper filter but are made the same way the performance air intake filters are. So you'll be able to clean and reuse them for a long time. Just do not expect much if any performance gains with a replacement drop in air filter since you'll still have all the factory tubing in place.
Expert Engineering behind Cold Air Intakes

No these aren't the same products you might see on a late night infomercial of gimmicky products claiming to boost your gas mileage and performance. These companies that make the best performance air intakes have the knowledge from years of being involved in the automotive industry. These companies have not built reputations by producing junk.
These specially shape and tested intake tubes have been crafted for each specific vehicle to maximize airflow into the engine while still retaining a stock like installation and fit. Piping is usually mandrel-best which provides a better smoother look with less air flow restriction inside the tubing.
Installation Process for Cold Air Intakes

Installing an air intake system is pretty easy. If you can use a screwdriver and ratchet then you are probably inclined enough to do it. Most intake systems take about 30 minutes to an hour in install at most. If you're not sure what to do, check out YouTube for install videos. Most vehicles can be found on there with how to DIY intake install instructions.
Each manufacturer will provide detailed step-by-step instructions with every intake kit. They're easily followed from start to finish, from removing the stock air box all the way through till you tighten the last bolt of the new performance air intake system. Most systems are mounted using the stock air box mounting locations. So there is little to no modifications required. If so those modifications will be instructed in great details. Also the better companies that we've reviewed below will have customer service available for you to call for technical support or to answer any related questions you may have.
Best looking Cold Air Intake Systems

Well the best looking system really depends on what your tastes are and what look you're trying to achieve. Most of the factory intake air boxes utilize a basic black plastic. Maybe you're looking to retain a stock look and want to give the black finish. Or if you want something a little flashier you can get chrome metal piping. Many companies also offer specialized colors for a more custom "themed" look. Really it's all up to you and what you budget allows for.
If you're looking for something more stock looking with basic black plastic then you should look into K&N, AEM, Takeda and Spectre. They all over these types of plastic and/or composite tubing.
If you want to dress up your engine compartment, then you'll want to go with a painted or chrome metal piping system. The follow companies offer quality metal "show looking" intakes, AEM, Injen and K&N.
Cold Air Intake warranty and street legal use info

Air Intake System companies such as K&N, Injen and AEM have ran their products through rigorous tests to earn smog-legal distinctions. Most manufacturers have designed their air intake systems in a way that earns them C.A.R.B. certification. This certifies that the air intake system is compliant with the toughest smog laws in the country, which would be in the state of California.
Installing a performance air intake system will not cause your car to fail any smog inspections, nor will it void any vehicle warranty. Under the Magnuson-Moss Warranty Act no dealership can deny you warranty service for on your vehicle unless they can directly prove the air intake was the cause of the damage to your engine.
Magnuson-Moss Warranty Act

(US Code – Title 15, Chapter 50, Sections 2301-2312)
Legally, a vehicle manufacturer cannot void the warranty on a vehicle due to an aftermarket part unless they can prove that the aftermarket part caused or contributed to the failure in the vehicle. If your vehicle manufacturer fails to honor emission/warranty claims, contact EPA at (202) 260-2080 or www.epa.gov. If federal warranty protection is denied, contact the FTC at (202) 326-3128 or www.ftc.gov.
Cold Air Intake Questions that brought you here

best cold air intake
best cold air intake for Pontiac Trans Am
best cold air intake for Chevy Silverado
best cold air intake for Nissan 350z
best cold air intake Brand
best cold air intake for Ford Mustang GT
best cold air intake for Chevrolet Camaro SS
best cold air intake for BMW
best cold air intake for Mustang Cobra
best cold air intake for Dodge Ram
best cold air intake for Duramax
best cold air intake for Ford GT
best cold air intake for Eclipse
best cold air intake for Ford F150
best cold air intake for Infiniti G35
best cold air intake for Honda Civic
best cold air intake for Acura Integra
best cold air intake for Dodge Challenger
best cold air intake for Dodge Viper
best cold air intake for Dodge Charger
best cold air intake for Lexus
best cold air intake for IS300
best cold air intake for Jeep Cherokee
best cold air intake for Saturn SC2
best cold air intake for Toyota Camry
best cold air intake for Toyota Tundra
best cold air intake for Subaru WRX
best cold air intake for Scion TC
best cold air intake for Nissan Xterra
best cold air intake for Chevrolet Corvette
best cold air intake for Chevy SS
best cold air intake reviews
best cold air intake system
best cold air intakes
how does a cold air intake work
how much horsepower do cold air intakes add
do cold air intakes give me better mpg
who makes the best cold air intakes
————————————————
What are the Best Cold Air Intake Systems

If you're in the market for a Cold Air Intake system then you probably want to know what company makes the best one. Well you can't really say that one is better than the other in terms of horsepower gains, partly because for the most part they all add around same amount of horsepower, especially when installed on a stock vehicle. But you can search for the best as one as far as quality, fitment and ease of installation goes.
Then you have to think about what each company offers. Some companies focus more on domestic V8 powered vehicles. Well others focus more on the import/tuner side of things, dealing mostly with 4 cylinder cars which are likely turbocharged. Either way, we've compiled this list below of the Top 5 Best Cold Air Intakes Systems based on consumer reviews.
Top 5 Best Cold Air Intake Systems

Spectre Cold Air Intake Kits (4.4 / 5)

Spectre Air Intake Kits are known for good build quality and fitment. While installing this kit, you'll notice the quality right away. Most of their intake systems offer performance red colored cone filter with stainless steel intake tubing. These kits are available for most pickup trucks, Jeep's and SUV's. Universal air intake kits are available along with CARB and Non-CARB Compliant systems. Consumers have even stated seeing a 2-3 mpg increase in fuel economy along with 15-20 horsepower gains reported.
All the Spectre intake kits come with a red reusable low restriction air filter. Tubing is made of quality polished aluminum and some kits come with black powder coated heat shields. This helps prevent the hotter engine compartment air from entering into the intake maximizing horsepower gains. Spectre kits come with all the necessary hardware, boots and clamps for a clean and easy installation.
Spectre Air Intake Kits are the cheapest on our top 5 Best Cold Air Intake Systems list. But since they're only offered for a small range of vehicles many people will have to count them out as a possibility. But if one of these kits will fit you vehicle than you have a great bargain on your hands. Check out the link below to see if any Spectre kits will fit your vehicle.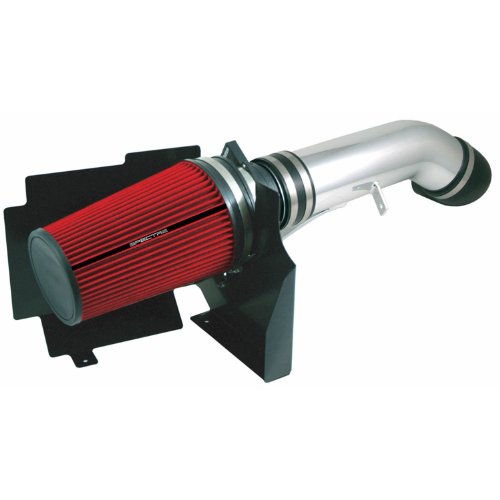 Takeda Cold Air Intake Systems (4.6 / 5)

Takeda is the cold air intakes are a specialty brand of choice for automotive brands such as Acura, Honda, Infinity, Nissan, Lexus, Mazda, Mitsubishi and Subaru just to name a few. They've designed their intake systems with quality and uniqueness in mind. Some of their intake systems even resemble that of a turbochargers intercooler. That's a cool feature if you're trying to achieve a look without spending thousand on an actual turbo kit.
Takeda's intake tubing is polished and anodized offering premium finish without discoloration. All intake kits come with a aFe Pro Dry S reusable Air Filter. They have dyno tested every kit they have built and have average gains of 8-10 horsepower. Most of their kits are direct fit which require no cutting or drilling. Installation averages 1 hours and most of the Takeda kits are made in the USA.
They have many popular intake kits available and they come in a lot of different shapes and sizes. They are one of the most expensive intake systems on our top 5 Best Cold Air Intake Systems list. But they'll be sure to fit your vehicle and provide the look, sound and performance that you're looking for out of a cold air intake system. Check out the link below to see if any of the Takeda system fit your vehicle.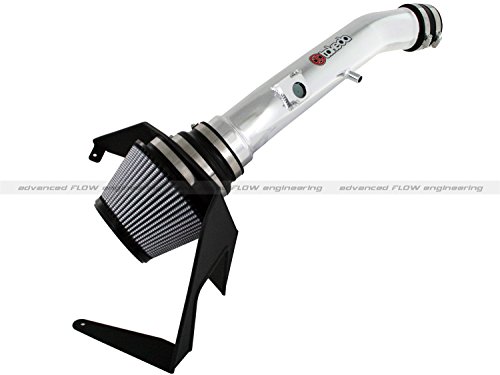 Injen Cold Air Intake Systems (4.6 / 5)

Injen has been around the tuner scene for nearly 20 years. Injen has a good reputation and has proven time and time again that their intakes will deliver the added noise and performance that you're looking for. They offer many universal kits as well as direct fit intake kits. Not only do they offer cold air intakes, but they also offer racing kits, drop in kits and ram air kits just to name a few of the more popular ones. They're TIG welded hardware and adaptors provides maximum strength.
They have risen the bar with Injen Technology's patented MR Technology that factors in engine management that adapts to produce maximum horsepower. This allows for consistent horsepower gains and is availed to the sports compact market exclusively. Injen backs all of their intake systems by a limited lifetime warranty.
Injen's quality and fitment are among the best out of the intakes available. They're neither the most expensive nor cheapest priced on our top 5 Best Cold Air Intake Systems list. Injen intakes are a great value for the price. They tend to just fit Nissans, Toyotas, Hondas and Acura's, but be sure to check out the link below to see if an Injen intake is right for your vehicle.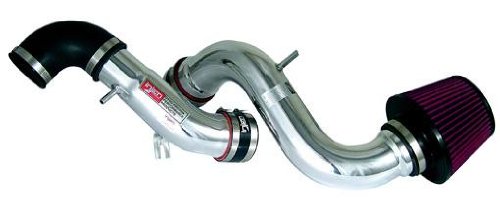 AEM Cold Air Intake Systems (4.7 / 5)

AEM is another company that has been around the tuner scene for nearly two decades. They've made some of the most iconic intake systems for Subaru's, Hondas and Toyotas over the years. These intake systems are designed to be 100% compatible with whichever vehicle you have. They offer systems for a wide array of vehicles.
Some of their intake systems have been dyno proven to add over 35 horsepower. AEM Air Intakes come with a lifetime DRYFLOW Synthetic air filter that is guaranteed for the life of your car or truck. Even better, AEM manufacturers its products in the USA. They even offer a full line of intake systems just for trucks and SUV's.
Although AEM intakes are one of the most expensive intake systems on our top 5 Best Cold Air Intake Systems list. They'll be sure to provide with the look, noise and performance that you've come to expect from them. Check out the link below to see if any of the AEM systems fit your vehicle.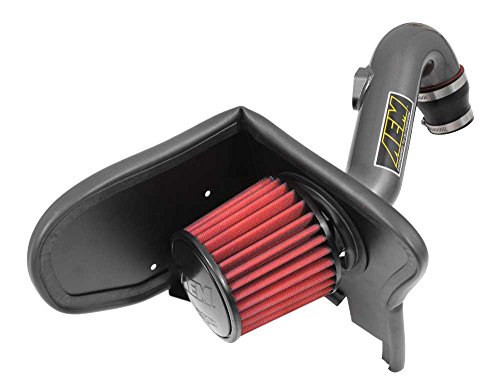 K&N Cold Air Intake Systems (4.8 / 5)

If you haven't heard of K&N, you must be living under a rock? They've been in business for almost four decades and these cold air intake systems are the best on market today for overall performance gains, quality and fitment. They're not the most expensive either. K&N has the biggest intake and air filter line up. They'll likely have something that fits just about any popular vehicle on the road today. K&N claims horsepower gains at the wheels ranging from 5 up to 25 horsepower. They have even gone as far as guaranteeing horsepower gains per each kits application.
Their intake system kits come with everything you need to install, intake tube, washable air filter, heat shields, hoses, clamps, hardware and detailed step-by-step instructions. All of K&N's air filters come with a 10-year/1 Million Mile limited Warranty. But you still have to wash it every 30-100k miles depending on application.
Consumer have said they've average 1-2 mpg higher fuel mileage and an average of 15 horsepower gain across the board. They've also compliment the ease of installation and praised the technical support available in case any help is needed. K&N primarily serves the American make automobiles, but they do have a good selection of tuner kits available.
So there you have it, K&N offers currently, the best Cold Air Intakes systems by consumer ratings of quality, performance and fitment. Check out the link below to see if you can buy a K&N system for your vehicle.