Rexing V1 Car Dash Cam Review
Introduction

One of the more popular models on the market today, the Rexing Dash Cam offers one of a kind viewing quality for a reasonable price. Measuring just 6.6 by 5 by 3 inches, the device offers excellent recording quality with its 1080 FHD Resolution at 30fps. Priced reasonably, the unit is well within the budget of many.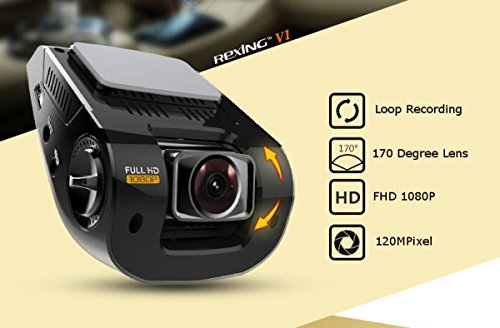 Product Features

Here's what you can look forward to with the unit:
It features a wide dynamic range, making it suitable for both low light and bright light situations.
Item comes with a loop recording feature, automatically overwrites oldest video file with newest.
Lens is 170 degrees with 6 layers.
Comes with a 2.4 inch 4:3 TFT technology LCD.
Comes with Accident Auto Detection Feature or G-Sensor which can lock data to memory.
Unit comes with audio recording and date/time stamp.
1920×1080 Full-HD resolution H. 264 photography compression technology
Discreet Design
Wide Dynamic (WDR) Technology
Multi-language support
3M adhesive mount provides convenient installation
Extra USB Charging port on power adapter
How It Works

Mount it, set it, and forget about it – the Rexing Dash Camera is wonderfully quick and easy to use. Once you've mounted the unit – simply turn it on, make some adjustments via the 2.4 TFT LCD and get started. SD card is not included in the package so make sure to put it in a maximum of 128GB SD Card, Class 10. It's important to first format the SD Card for compatibility with the Rexing Dash Camera to prevent data error.
The camera can record MOV format videos while images are captured in JPG format. Please note that the unit's operating temperature is 10 degrees to 140 degrees Fahrenheit.
How It Mounts to Car

The box comes with 3M adhesive mount, allowing you to mount the unit flat onto the windshield to make it more discrete. You can also choose to mount it via suction cup, depending on what you find to be the most secure and convenient.
Product Pros

Nighttime drivers would be comfortable knowing that the dash cam captures all their trips regardless of how dark it may be outside.
Lens captures a wide extent of the road, ensuring that all actions are caught on tape.
The loop recording capacity means you don't have to worry about deleting footage. The Rexing Dash Cam manages to capture continuous videos by deleting the oldest ones saved and replacing it with the latest.
You also have the choice of choosing among 3 minutes, 5 minutes, and 10 minutes worth of loop recording.
The videos are recorded in an expandable SD Card, which means that you can go as big as you want for maximum storage capacity.
The Accident Auto Detection Feature is a wonderful addition as the dash cam instantly locks certain events in its memory to prevent deletion.
Item comes with multi-language support for those who have English as their second language
Wonderfully precise, the product comes with a date/time stamp to give you that additional benefit of 'evidence' just in case of mishaps.
A 32GB card should be able to take 5 hours worth of video recording – which means that with a 128GB SD card slotted in, you have more or less 24 hours worth of video footage before there's a need to overwrite the first part of the video recorded.
If you want to make sure that a video is saved for download later, all you have to do is press one button and be secured that the loop will not be overwritten until you grab it from the dash camera memory storage.
You can download the firmware online should the dash cam have any functional problems. Reinstalling the firmware essentially works like a reformat, allowing you to fix any issues. Make sure to remove the storage card before launching a firmware reinstall!
Black, light, and compact – the unit takes very little space in your windshield. This offers you maximum viewing without losing a single second of necessary recording.
The black design makes it perfect for all types of cars. The color also makes the dash cam wonderfully discreet and blends with the car's interior seamlessly no matter what kind of seat covers you happen to have.
Wonderfully easy to set up as well as control, the TFT LCD screen combined with the light touch buttons lets you adjust the unit settings to meet your specific needs.
Product Cons

The battery life of the dash cam when disconnected from the charger does not last that long. It's advisable to keep the item connected to the car's power when in use.
The manufacturer recommends that the unit be removed from the windshield when parking, which can be problematic.
Specifications

Video Resolution:1080FHD 1920×1080/ 1080P 1440×1080/ 720P 1280×720/ WVGA 848×480/ VGA 640×480/ QVGA 320×240.
File Format: Image: JPG, Video: MOV.
Power-off File Recovery Function: Support.
Date Time Mark: Support.
Memory Card: Support up to 128GB Class10 or upper Micro SD/TF Card (not included)
Language System: English/ French/ Spanish/ Portuguese/ German/ Italian/ Simplified Chinese/ Traditional Chinese/ Russian/ Japanese.
USB: Support.
Audio Recording: Support.
Storage Temperature: -5°F to 160°F.
Operating Temperature: 10°F to 140°F.(It's recommended to remove the dash cam from the windshield while not in use)
Tips While Using

Format the SD card your using with your Rexing V1 for optimal use. Not formatting the SD card may result in card errors.
The battery is mainly used to backup files in an emergency. Remember to always connect your Rexing V1 to a power supply while in use.
What Consumers Say About It

Consumer Ratings

(4.5 / 5)
With an outstanding rating of 4.5 stars out of 5, the Rexing Dash Camera is well received by those who decided to make use of the product. Reviews have been mostly positive with many users commenting on the storage and recording capacity of the model. Many of its buyers originally purchased the product because of its loop storage feature, but were subsequently impressed with the other capabilities of the unit.
Warranty

The seller offers a one year warranty, making it incredibly easy for you to return the item in case of problems. So far however, the unit has gotten primarily positive reviews with no sign of any returns or dissatisfaction.
What's In the Box?

The box includes the Rexing VI Dash Camera, the 3M adhesive mount, the User Manual, the in-car charging cable, and an extra USB cable.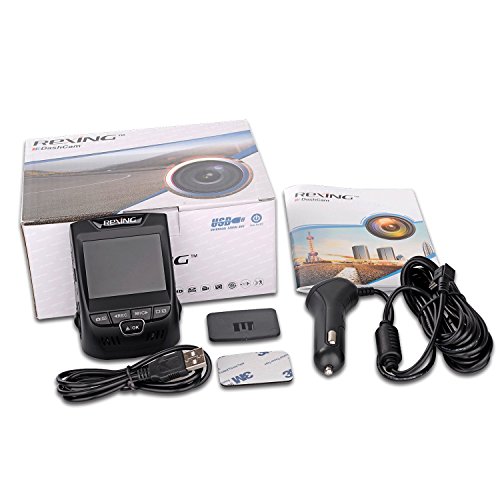 Who Should Use This?

All in all, it's easy to see that the Rexing Dash Cam unit is a wonderful addition to many cars. Whether you drive for leisure, for transportation to work, or if you're driving for a living – having a dash cam is always a good idea to enforce protection when faced with an accident. Here are some of the ways the dash cam can be used:
For quick insurance claims, it allows you to quickly capture images of license plates or drivers for later use.
It lets you have a clear recording of what actually happened for whatever purpose it may serve you best.
Simply enjoy funny moments during a drive and watch them over and over again at your leisure.
Be able to capture accidents or problems involving other people, providing valuable information in the process.
Where can I Buy it?