Preview of 2016 Street Outlaws Season & 405 Top Ten List Car Mods
Big Chief and Murder Nova of Street Outlaws discuss the 405's Top Ten List Winter Mods Progress

Just about everyone on the Street Outlaws 405's Top Ten List is making changes this winter. Some had no choice like Big Chief and Daddy Dave who've recently wrecked their cars. Some are simply trying to go faster while others like Chuck are trying to eliminate traction issues because they're putting down too much power. Here is a highlighted rundown of the current changes being done by the 405 Street Outlaws guys as stated by Justin and Shawn from the Chief & Shawn Show Podcast.
Street Outlaw's 405 Top Ten List Winter Mods Highlights

"Daddy Dave" Dave Comstock: Goliath a 1963 Chevy Nova is currently at Larry Larson's chassis shop. Larry Larson is a multiple winter of Drag Week and has one of the fastest street cars in the world. -Click Here for more Information about Goliath-
"Doc" James Love: Street Beast a 1971 Chevy Monte Carlo is getting weight reduction along with a new rearend to name a few. Doc wants to compete with all the "Pro Mods". -Click Here for more Information about Doc's Street Beast-
"Monza" Jerry Monza: Sinister Split Bumper a 1972 Chevy Camaro Rally Sport is at Terry Murphy Race Cars getting chassis work and lighter parts. Monza says it'll be a Tube Chassis car weighting about 2,500lbs.
"Dominator" Joe Woods: The Dominator a 1967 Dodge Dart is currently not undergoing any changes. Only rumor has it that Joe is simply doing a refresh of the engine.
"Derek" Derek Travis: The Silver Unit a 1983 Chevy Camaro is completely tore about getting and new tube chassis, cage and engine upgrades. Rumor has it The Silver Unit will have a stance like Kye Kelly's Shocker Camaro.
"Shane & Bob" Shane McAlary: The Black Bird a 1977 Chevy Vega was recently upgraded from a F1 Procharger to a F3. Currently undergoing some weight reduction.
"Reaper" James Goad: The Reaper SS a 1968 Chevy Camaro SS is undergoing some Chassis work and rumored engine upgrade.
"Boosted GT" Chris Hamilton: The Boosted GT a 2003 Ford Mustang is about to be put a side. Chris is building an entirely new car, a back halfed 2005 Mustang Tube Chassis currently at Team Z Motorsports. Rumor has it that Quillian will be working with Boosted on the engine combination and this may very well be the new #1 on the 405's Top Ten List. -Click Here for more Information on Boosted New Mustang-
"Chuck" Chuck Seitsinger: The Death Trap a 1989 Ford Mustang is undergoing a big tire transformation and some weight reduction. Hopefully Chuck will solve his traction issue from last year's Twin Turbo upgrade. -Click Here For More Information about the Death Trap's Transformation-
"Murder" Shawn Ellington: The Murder Nova a 1969 Chevy Nova isn't undergoing any changes this year. However Shawn did say that he is building another Nova that he intends to make much lighter and safer than his current nova. That car is expected to be completed some time next year.
-"Big Chief" Justin Shearer: The CrowMod a Pro Modified Race Car resembling a 1968 Pontiac Firebird. There is speculation on weather it will have a legal vin but Justin says he intends on driving on the street to and from work. The CrowMod will have the same drive train from The Crow but is about 1000lbs lighter. -Click Here For More Info On Big Chief's CrowMod-
Chief and Shawn Show Podcast of Top Ten List Winter Mods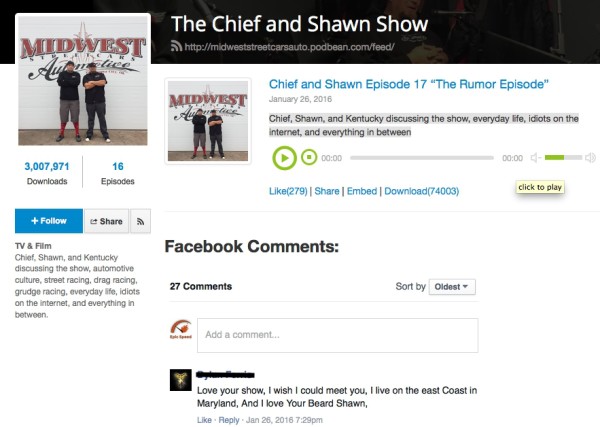 All Pictures taken from respective owners Facebook pages.