Funny Drag Racing T Shirts Great for Fathers Day
Great Fathers Day Custom Drag Racing related T-Shirts, Hoodies, Mugs and Stickers

With Father's Day about 6 weeks away, now is the time to start thinking about a nice gift idea for the automotive enthusiast father of the family. Below we'll highlight some of the best custom drag racing t shirts, hoodies, mugs and stickers that we've come across. These will likely make him happy and you'll likely not see these anywhere else. Click on each image for more information.
"Straight Outta Money Because Racecar"

This design is a great because we all know the saying "because racecar" and we are all well aware how racecars make many of us go broke for the love of speed. That is ok for most of us so lets wear that badge with pride! Click Here to Buy
"Burn Rubber, Protect My Ride Prayer"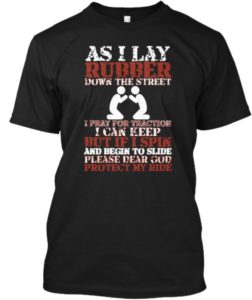 Here is another popular design among car guys. "As I lay rubber down the street, I pray for traction I can keep, But if I spin and begin to slide, Please dear god protect my ride!" Click Here to Buy
"I'd Rather Be Blown"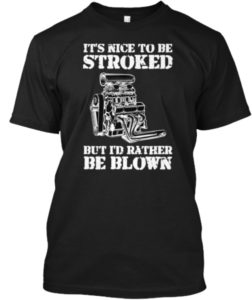 If you're a gear head then you'll totally get it. Here's another popular one available in T-Shirt, Hoodie, Mug and Stickers. "It's Nice To Be Stroked, But I'd Rather Be Blown". Click Here to Buy
"I Still Play With Blocks"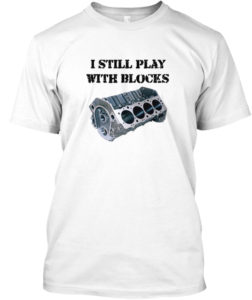 What do most drag racing junkies do more than they'd like to? That's fixing, building and rebuilding motors or engine blocks. So here's another popular one "I Still Play With Blocks" featuring a chevy small block and it homes in T-Shirts, Hoodies, Mugs or stickers. Click Here to Buy
"My Fix Is Mashing The Throttle"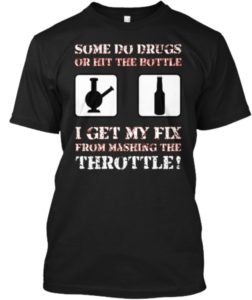 Finally the last on our Father's Day "Car Guy" T-Shirt list is "Some do drugs, or hit the bottle, I get my fix from mashing the Throttle!" It's available in T-Shirts, Hoodies, Mugs or Stickers. Click Here to Buy
If you have any idea's for custom designed drag racer t-shirts that you haven't seen before, let us know by commenting below or contacting us directly!