First Stock 2016 Camaro SS Runs 11s in 1/4 and 10s with Nitrous!
At Just 4 Days Old We Have The Very First 2016 Cheverolet Camaro SS Running 10 Second 1/4 Mile Runs!

Nearly Stock 11 Second 1/4 Mile 2016 Camaro SS

B&R Performance which is based out of Oklahoma City and ran by Street Outlaw's guest start Freakin Rican. You may remember him, but if not he was on a few episodes trying to make the 405's Top Ten List in a Red Fox Body Mustang. Freakin Rican as also been mentioned in a few of the recent Street Outlaw's shows. Anyway his B&R Performance is the first to take the brand new 6th generation Chevy Camaro SS down the 1/4 mile. Besides a tune and drag radials this car ran 11.77 @ 119 mph. The 2016 Camaro SS is powered by a 455-hp 6.2-Liter V-8. The same one found in the Corvette Stringray. Also being 200 pounds lighter than the previous generation helps this all american muscle car get up and go even more. Just a few weeks ago we talked about the first 2016 Ford Mustang GT350 running 11.90s in the 1/4 mile with suspension mods. –Click Here For GT350 1/4 mile details– But at thousands and thousands of dollars more than the Camaro SS! Either way the 2016 Camaro and Mustang will bring us alot of action.
Nitrous Assisted 2016 Camaro SS 10 Second 1/4 Mile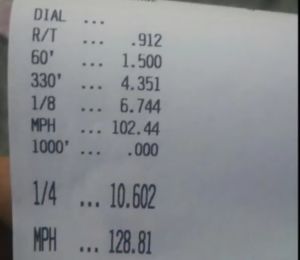 Yes just a few days after the 2016 Chevrolet Camaro SS has been for sale we found one already running 10 second 1/4 mile passes with a few basic mods. This SS has been tuned, given race ready rubber and a 150 shot of nitrous. Impressive for an otherwise stock car. With the nitrous the car ran 10.60 @ 129mph. Rather impressive for a full weight daily drivable car! Check out the video below of the 10 second pass.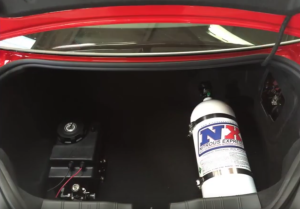 10 Second 2016 Camaro SS 1/4 Mile Video

Share This With Your Friends!