First Look: Street Outlaws BoostedGT's Building A New Car!
BoostedGT Is Building a new Big Tire Mustang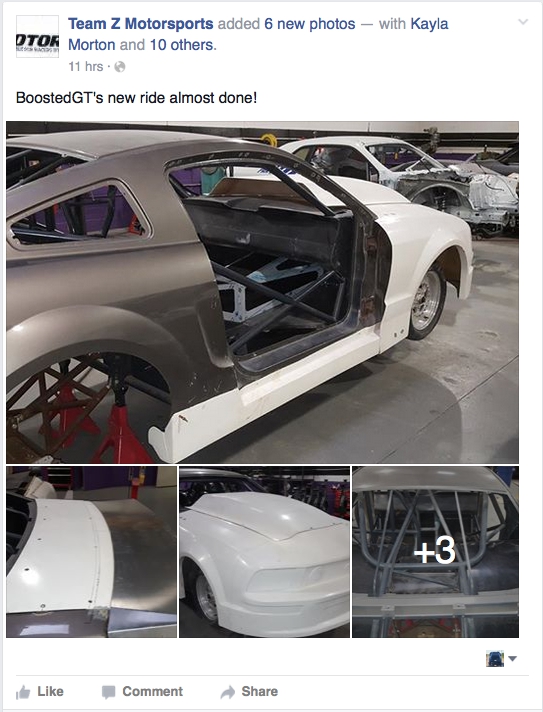 If your a Street Outlaws fan or a street racing fan that has been keeping up with websites like SpeedSociety.com or 1320video.com than you've heard of Chris Hamilton aka BoostedGT and have seen him get faster and faster over the years. Most people would consider Chris a underdog in most drag racing situations that are seen on TV. He was able to race himself up the 405's Top Ten List to the number 5 spot. But it's fact that if he really wants to continue to compete that he needs to upgrade. Well Chris wants to keep his current 2003 Mustang which is a true street driven car. So that means it's time for another car. The exact year is unknown at this time, but it's a 5th generation Ford Mustang. The chassis is currently being built at Team Z Motorsports shop in Taylor Michigan. Pictures taken from Team Z Motorsports Facebook Page.
BoostedGT's Back Halfed Ford Mustang

Maybe when Chris crashed the car in October he decided it was time for a big tire upgrade? –BoostedGT Crash Details Here– The crash wasn't bad but none the less it could have triggered something. It is not exactly a pro mod like Big Chief's Crow 2.0. It's a real stock wheel base back halfed Mustang. Whats that mean? It was once a street driven factory Mustang. The front end is modified with lightweight parts and fiber glass or carbon fiber front clip. Also the rear part of the car that is tubbed to support the big tires is replaced with carbon fiber. In a recent "Chief and Shawn Show" podcast Chris said that the Mustang will weight about 2300lbs with a Twin Turbo Small block Ford setup. His current car makes around 1,500 horsepower so you can bet this car will pack a punch.


Chief and Shawn Shop Podcast?

Currently Big Chief and Murder Nova record a weekly talk show that can be found on Midwest Street Cars Website here. They have a special guest on the show and talk about anything that you could think of. The coolest part of the show is hearing all the guys talk about their past street racing experiences. Word on the street is Shawn is also building a new car, another back halfed Nova like he has now. Shawn said that his MurderNova is old, pieced together and abused. He has been dealing with some horrible shaking issues and has decided that building a fresh car is the best way to continue to compete because he feels that his MurderNova is maxed out and cannot go any faster. Mind you this car has ran mid 4 seconds in the 1/8 mile so how much faster do you need to be? It has also been talked about that Chuck is upgrading the Death Trap to a big tire car. -Click Here to See Chuck's Mustang under going it's Big Tire Transformation!-
Have a Fast Car that can Keep up with Street Outlaws?

Many people that watch the show are in fact drag racers themselves. Are you one of them? Do you think your car is built enough to hang with these guys cars? Well in a recent Podcast Big Chief states that anyone that has a fast street raced car that wants to race any of the guys on The Top Ten List can do so. He wants to see a picture or video of the car being street raced and to send it to the email on the Midwest Street Cars website-Click Here.
Share This With Your Friends!