Don't Cry, the El Camino will Probably Never Come Back!
Ex U.S. president Bill "Bubba" Clinton "infamously" owned a 1970 Chevrolet El Camino that had artificial turf carpeting its bed. The El Camino, and its Ford counterpart, the Ranchero, were basically station wagons that replaced the rear cargo and seating areas with a pick-up-style open bed. These cars were also titled as trucks, even though they were actually cars.
These big rear wheel drive cars where known as frankentrucks and have disappeared from most of the world, except in Australia, there these car/pickup crossbreeds have survived long after their extinction elsewhere. Enthusiasts will tell that is mainly only due to GM executives not importing the car because tens of thousands have said they would buy a new Chevrolet El Camino. If a new one were built it would likely be built off the Holden Commodore platform which sells car pickups known as UTE's (the Aussie term for the automotive truck wanna-bes). Currently the 4 door Commodore is rebrands as the Chevy SS and shipped over seas. The Commodore was earlier imported as the 4 door Pontiac G8 and before that, the 2 door Pontiac GTO.
General Motors has thrown around the idea of a El Camino concept for the past few years. Check out the 2016 Chevrolet El Camino Concept here.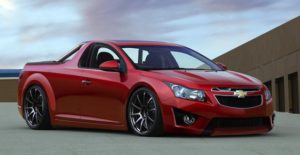 Since sales of the Holden brand haven't been profitable for years, GM has now decided to pull the plug on production in Australia which also kills the Chevy SS performance sedan. The last 2017 Chevy SS just rolled off the Holden production line earlier this month.
Ford has already closed its Australian plant where the Falcon sedan and its "Ute" have been discontinued with no plans for replacement.
Ute's are still very much loved in Australia, but since the country is no longer cut off from the outside world these indigenous species have been displaced, especially compact pickups and crossover SUVs. The latest Australian sales figures show utes nowhere near the top of the charts, which is why their factories are closing.
With these plants closing, that means no more tantalizing Aussie models to fuel internet rumors fueling the imminent return of an open bed car to the U.S. market set to revive the much storied El Camino and Ranchero nameplates.