990 HP Camaro's from Select Dealers Unveiled at SEMA!
Hellcat's and Roush Mustangs Beware!

From the makers of the first 9 second 6th generation Camaro comes another quarter mile monster, the Fireball 900 Camaro which was just unveiled today at SEMA. It will feature 990 flywheel horsepower from select Chevrolet Dealers, which means it'll probably come with a warranty as the Fireball 700 does. That's a 990 horsepower street legal and track capable Camaro that'll eat Hellcats and Roush Mustangs for lunch! That's 340 more horsepower than the ZL1 and 485 more than the z28! It's expected to cost around $90k, which is pretty pricey for many people. But it's still cool none the less!
The Fireball 900 produces it's power by first adding a supercharger. Some other supporting modifications are made to prolong the life of the motor and add more power of course. The stock heads are ported and have upgrade Valve Springs. The stock cam is replaced with a Custom Grind Cam Shaft that is installed with High Performance Lifters and Hardened Chromoly Pushrods. The Intake Manifold is upgraded along with Stainless Steel Long Tube Headers, High Flow Cataytic Converters, a High Flow Fuel Pump and three Custom Tunes available for 91, 93 and 100 Octane fuel. The rearend is beefed up with High Strength Axles and a Aluminum Drive Shaft. All this comes with Performance Wheels wrapped in Drag Radials, a Custom Hood, Ground Effects, Custom Headrest and it's tattooed with Fireball badging. There is no mistaking or counterfeiting the Fireball 900!
Fireball 900 Camaro Dyno Graph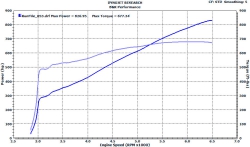 On the dyno the Fireball 900 Camaro made 826 horsepower to the rear wheels at 6,500 rpm and 677 ft-lbs of torque to the rear wheels. Torque peaks at about 5,700 rpm but still holds strong thru 6,500 rpm only dropping off slightly. Even better at 3,000 rpm the engine is already producing 500hp and 400tq which means the power band is very healthy. Click on the dyno graph to enlarge and see the power curve.
More information is available here on PDF with contact information regarding where to buy the Fireball 900 Camaro.
Save