2018 Dodge Demon Release Date, Performance, Rumors & History
The Challenger Demon Hype

The automotive performance industry has been wondering what exactly are Dodge's plans with the Demon? Isn't the Hellcat powerful enough? This decade has brought us some good old fashion horsepower wars with the big three American automakers. Dodge's recent announcement says they will debut it's "performance halo" 2018 Dodge Challenger SRT Demon at the New York auto show in April. The marketing team is teasing Mopar enthusiast weekly from now up un till the big reveal in April with weekly video releases teaser videos. They videos will show off the cars performance features a little more each week. If you're interested in keeping up with the Demon teaser videos, click here.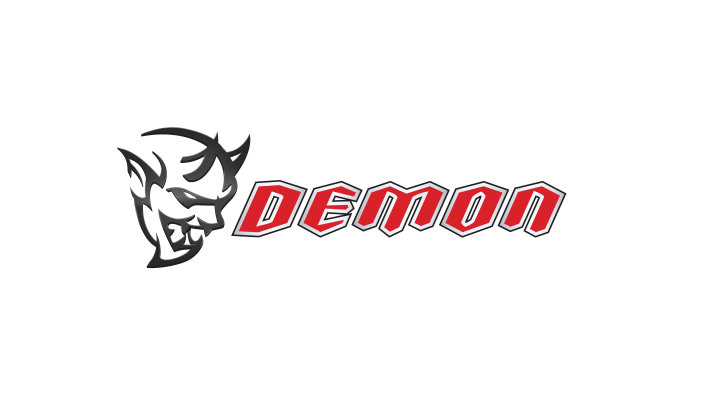 The latest rumor from Dodge are claims that the Demon will be 200 lbs. at minimum than the Challenger Hellcat, which pushes 4,500 lbs. The weight savings will be a great adjustment and it's expected to come from less luxury in the cabin along with the use of some lighter weight materials. If you take a look at the recent Viper ACR and how Dodge was able to manufacture lightweight parts for it, then you shouldn't doubt Dodge's ability to lighten up the Challenger.
2018 Challenger SRT Demon Performance

Well many rumor's have been going around about what the Demon's performance will be. The most consistent claim is that of a boosted up Hellcat engine producing 850 to 1,000 horsepower. An all wheel drive setup has even been mentioned, but Dodge doesn't really have a capable AWD system, that we know of. Some enthusiasts have even made the claim to a 666 horsepower output just to go along with the Demon theme. Well we really can't say what it will be, it'll likely be producing well over 707 horsepower that the Hellcat currently produces.
Handling is expected to be better too, with weight savings in talks along with some added bracing of the uni-body expected to help this boat get around corners. Wider tires are expected to utilize the rumored fender flares the Demon is thought to have.
Demon Leaked in Vin Diesel Fast and Furious 8 Video?

Sure we're only two weeks into Dodge's 12 week long Demon teaser video roll out, but it appears that the Demon may have already been "Unveiled". That is of course by mistake. A recent YouTube video where Vin Diesel discusses "The Fate of the Furious" (Fast 8) shows two Dodge Challengers parked behind him and the crew. We're pretty certain they are both 2018 Challenger Demons. Two reasons, 1; the new Fast and Furious is set to be released on April 12th, which is around the same time as the April New York Auto show where Dodge plans to unveil the new Demon. Could it just be a coincidence? Onto the second reason, the emblem on the side of the two gray Challengers in the Vin Diesel YouTube video sure to appear to be Demon's, not to mention the fender flairs and hood scoop closely resemble that of what we've seen so far by Dodge in it's teaser videos. So you can be the judge of that.
Even is this Vin Diesel video of Fast 8 may of leaked the Demon prematurely, that'll likely not spoil Dodge's plans to continue their 12 week long series of teaser videos until it's full reveal. One thing is for sure, automotive performance enthusiasts, especially Mopar guys are excited to see what the all new 2018 Dodge Challenger Demon has in store. You can click on the picture below for a closer view of what appears to be a Demon on side of these two Fast and Furious 8 Challengers.

Where did the Demon come from?

Chrysler introduced the Dodge Dart in 1960. As most of you know, the Dart us one of the top muscle cars to from the 60s & 70s. Although Chrysler didn't intended on it being a premium performance car. That all changed in the late 1960s, when the big three raced to the muscle scene when sales sky rocketed for the famous "muscle car era". This was went cars like Charger, Challenger, Daytona, Camaro, Mustang and GTO just to name a few made their marks in history. Chrysler decided to add another top contender and the 1971 Dodge Dart Demon 340 was born.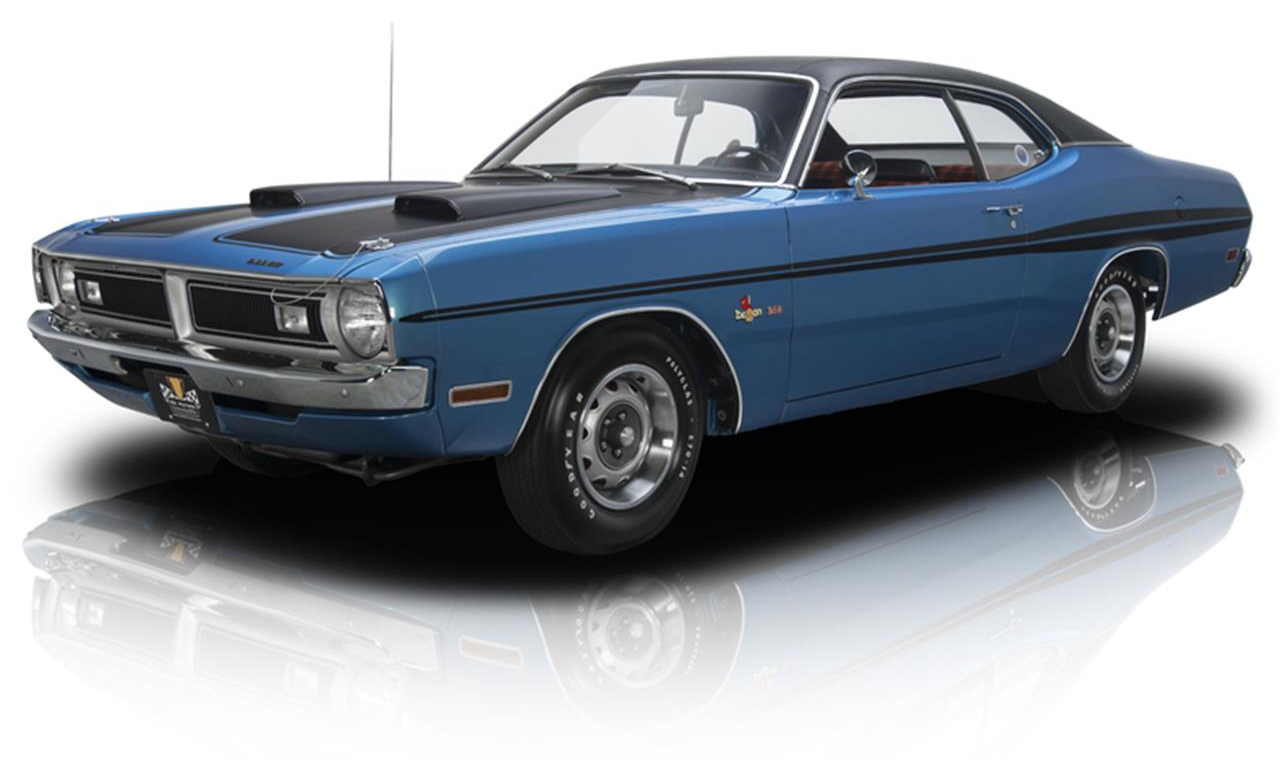 Click to Enlarge
Original Dodge Demon Performance

When you're thinking about a classic top performing muscle car, you'd likely think of a big block power plant and since we're talking about Dodge, you probably assume the 1971 Demon had a Hemi. Well not at all, the Dodge Dart Demon was a light car only weighting about 3,150lbs. The lightweight along with the 340 cubic inch small block which featured a hot cam, hydraulic lifters and 10.5:1 compression in the small Dart Demon certainly gave most of it's competitors a run for their money. The 340 produced 275 horsepower and 340lb-ft of torque.
The transmission used was a synchronized floor shifted 3-speed manual. Onto the other features for 1971 was a dual exhaust, sure-grip differential, and wide-tread bias E70X14 Goodyear Polyglas GT tires with 14-inch wheels. The Demon 340 also had a special high-performance Rally suspension with heavy duty torsion bars, a bigger stabilizer bar up front, a anti-sway bar in the rear, stiffer springs and oversized shock absorbers. For a 1971 Muscle Car, the Dodge Dart Demon handled pretty well compared to it's peers.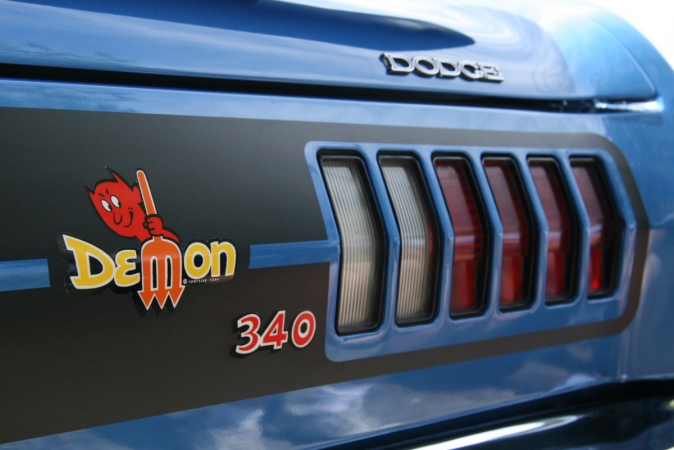 Click to Enlarge
Additional 1971 Demon Upgrades

The Demon 340 had many optional features. You could have a special blacked-put dual hood scoop and there was another spoiler package. The added color options for the Demon were eye-popping colors such as Go-Green and Citron Yella. The Dart was also one of the first vehicles to include a cassette player, something you can no longer find in cars today.
Besides the standard 3-speed manual gearbox, you could upgrade to the famed 4-Speed manual or a 3-speed Torque Elite automatic transmission. Back in those days, the 4-Speed manual was the best transmission to get, due to it's strength and closer gear ratio.
The other options worth mentioning were bucket seats, a special 6,000 rpm tachometer, Rally wheels, different mirrors, interior trim, and better tires. You also had a choice of multiple reared gear ratios, starting from 2.94:1 all the way up to 4.10:1. As you can guess, the 4.10s were the gears of choice for most Demon owners to give them an advantage in some of that good old fashion light-to-light drag racing.
Dart Demon Rarity

In the Demon's short two year run, just under 19,000 units were produced. It wasn't the most popular performance muscle car of it's time, but it has defiantly become highly sought partly due to it's uniqueness and rarity. Getting to see one of these rare Demon's in person should be a treat for any Muscle Car Lover!
All pictures sourced from Vin Diesels "The Fate of the Furious" YouTube video.
Save