2017 Yenko/SC 800HP Corvette Grand Sport Specs
Any Muscle Car guy when first reading 2017 and Yenko together probably thought, FAKE! Well no, not really… Specialty Vehicle Engineering which is using the famous Yenko name under license has taken the Corvette Grand Sport and nearly doubled it's horsepower. They've taken the LT1 6.2 and have completely re-worked it, bored it out and added a twin screw supercharger. To keep up with the added boost, they've taken the fuel system off the ZO6 used to power it's LT4 to help the now 416 cubic inch LT1 make 800 horsepower and 750 lb-ft of torque. The Yenko/SC Corvette will be available in both Coupe and Convertible models with either the 7-speed manual or 8-speed automatic transmission.
Performance aside, the appearance changes are eye catching and go right along with the classic Yenko looks. Badges can be found throughout the interior, exterior and even on the brake calipers. There are also 90 different color options available. The package will cost about $46,000 ontop of the 2017 Grand Sport's base price of $65,450. If you're interested in buying one, you'd better run down to the Chevrolet dealer quick because they're are only going to be 50 of the 2017's built.
Yenko/SC Corvette Grand Sport Performance

It starts with the engine, SVE takes the 6.2 liter/376 cubic inch LT1 and bores it out to 6.8 liter/416 cubic inches. The bottom is built with a forged 4340 steel crankshaft and H-beam connecting rods linking to forged aluminum pistons. The LT1 cylinder heads have been CNC ported and polished and oiling the internals is done by a dry sump system. On top of all that is a 2.9 liter twin screw custom built supercharger. To keep this monster adequately feed, they've borrowed the injectors and fuel system from the LT4 Z06. The results are 800 horsepower at around 6,200 rpms and 750 lb-ft of torque around 4,200 rpms. That's almost double that of the stock numbers, which are 460 horsepower and 465 lb-ft of torque. The engine dyno graph below shows the power curve compared to stock. To top it all off, this beast has a 3-year/36,000 mile warranty.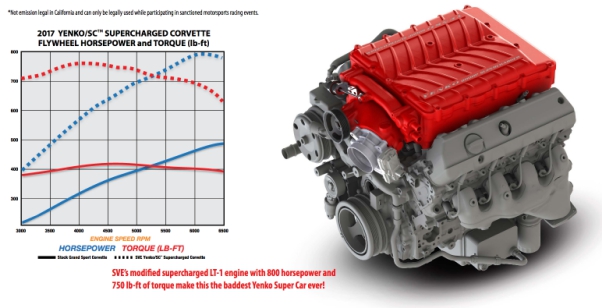 Click to Enlarge


Yenko/SC Corvette Grand Sport Appearance

Along with all the factory colors, SVE offers custom colors painted in the custom SYC hood, roof, decklid, and side stripe graphics with matching painted hood grille. These colors are Hugger Orange, Gloss Black, Sliver, Corvette Racing Yellow, White, Red, Satin Black, Gray and Blue. Check out some of the paint scheme and color options below. This creates 90 different color combinations and with only 50 of these 2017 Yenko/SC Corvettes being built, they all could be unique.
Yenko/SC Corvette Grand Sport Handling

Specialty Vehicle Engineering started with a Grand Sport because this model includes all the same handling components of the ZO6. When adding the Yenko/SC 800 horsepower power plant having the proper balance is important and the Yenko/SC Edition Grand Sport model does just that. For one it's equipped with magnetic ride control that promote awesome performance calibrated stability. Braking is done by Brembo with 14" rotors and 6-piston calipers up front. The rear rotors are 13.4" with 4-piston calipers.
Yenko/SC Conclusion and Buying Options

So really you can think of the Yenko/SC package has not only rare, but has a ZO6 on steroids that comes with a warranty. There is no doubt the color scheme and appearance of the Yenko/SC Corvette is stylish, unique and true to it's classic heritage. With a price tag of about $100k, this costs $20k more than a base ZO6. But you're getting more power with a warranty. If you go and buy a ZO6 and upgrade it's horsepower yourself, you'd likely be throwing out the warranty. But who really cares about that? It's all about an adrenaline rush! But who am I kidding? Anyone wanting to buy one of these limited editions probably wont be taking it to the drag strip. Maybe we can be proven wrong, because seeing what these run down the 1/4 would be pretty exciting!
If you're interested in more information or maybe you want one these Yenko's then check out Specialty Vehicles Engineering(SVE)'s website or click here for the Brochure.
Save