2017 Grand Cherokee Hellcat Officially Confirmed by Jeep CEO
Jeep CEO promises Grand Cherokee Hellcat "before the end of 2017"

At the recent 2016 North American International Auto Show in Detroit the Jepp CEO, Mike Manley confirmed that a Hellcat Powered Grand Cherokee will be available for purchase before the end of 2017. This extremely high performance Keep will have 707 Horsepower and is rumoured to be called "Trackhawk", which has already been trademarked by the company. Or mabye the "Trackhawk" name is for a higher horse powered Hellcat option for the Challenger? Time will soon tell! There have already been Hellcat powered Jeep's seen testing on the streets.
Jeep Grand Cherokee SRT Hellcat is confirmed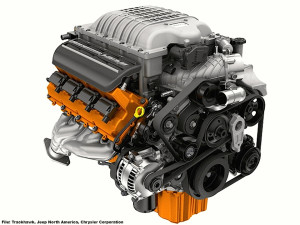 Well the Cherokee Hellcat-powered project is rumoured to be called "Trackhawk" there have also been talks of it being called "Hellhawk". Either way it will feature a heavy duty all-wheel-drive system, transfer case along with all other driveline components being "beefed-up". It's rumoured that this new Hellcat Cherokee could use the Ram Diesel's 8HP70 4WD System. Despite rumors that Chrysler originally planned to de-tune the Hellcat motor for the Jeep Grand Cherokee, sources say that when it arrives it will have all of the Hellcat's 707 Horsepower! It's expected to have a curb weight of 5,120lbs. No worries though, this will be one of the fastest factory SUV's if not the fastest.
Jeep CEO Confirms Grand Cherokee Hellcat Video

Share This With Your Friends!