10 Concept Cars from Holden that ROCKED!
For Holden fans this month there is likely no dry eyes as the brand known as "Australia's Own" brings a 69 year long production run to an end in just a couple of weeks. General Motors, Holden's parent company will be moving production overseas as the cost of doing business in Australia has become far to great for the giant automaker. The production of these vehicles have always been a great pride and joy to Aussie gear heads all around the country. So we've compiled a list of what many fans have said to be some of the best concept cars that Holden has pushed out over the years.
1. 1969 Holden Hurricane Concept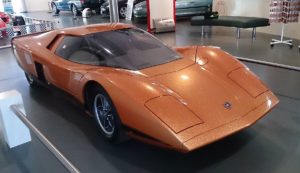 The Hurricane was Holden's first ever concept car and it was a total knockout when it debuted at the Melbourne Motor Show in 1969. The Hurricane still holds its own today thanks to it's impossibly low wedge-shaped styling that could have easily have originated from an Italian design house such as Lamborghini or Ferrari.
It was a showcase of possible future technologies and the Hurricane concept car featured fantasy stuff well ahead of it's time. These features included climate control, digital instruments, a rear view camera which was displayed on a CRT monitor and navigation called "Pathfinder" that used magnets in the road surface to determine its position. Isn't crazy how these are all normal options available on todays cars that most of us probably take for granite.
Out back under the rear engine cover sat a high compression version of Holden's newly designed 4.2-litre 253 cubic inch V8 which was connected to the rear driving transaxle. While the mid-mounted positioning didn't grace a production, the Holden V8 engine did.
2. 1970 Holden GTR-X Concept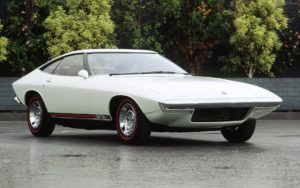 Holden's love for sports cars lead them to a almost impossibly sleek GTR-X concept. This was to be an exploration of a lightweight low-cost coupe it, which was to be powered by the six-cylinder mechanicals out of the LC Torana.
This undoubtedly took some inspiration from other GM vehicles like the Opel GT, but the GTR-X was a lower, and a more wild expression of design, despite being created with an eye to production. There were many advanced features for the time which included concealed headlights, windscreen wipers, and auxiliary lighting, and flush door handles. These features were like no other production car Holden at the time.
Unfortunately the GTR-X never got beyond the prototype stage, with three fiberglass-bodied hatches created initially with only one known to exist today, which is housed as part of Holden's collection.
3. Holden Monaro Coupe Concept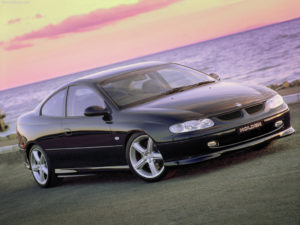 Before 1998 Holden had a long hiatus of producing little more than "production previews". This new Holden design turned out to be one of its most impressive concepts in 1998. The Holden Monaro Coupe Concept was a project that started out as just an after-hours project known only to a handful of company insiders.
When the understated Monaro Coupe Concept debuted at the 1998 Sydney Motor Show very few people could predict the great reception this new sleek two door would receive. It was based on the then-current VT Commodore platform and would also later get rebranded becoming a Pontiac GTO in North America for just a short few years.
Holden quickly developed it's production version that hit showrooms in 2001 as Holden's flagship.
4. Holden Efijy Concept Car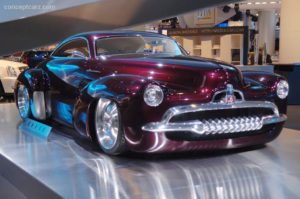 While Holden was celebrating it's hot rod community, along with it's modified examples of Holden's iconic FJ model from 1953, they turned out this mind blowing Efijy concept car in 2005. This car really blurred the lines between custom car and motor show concept. Despite it's all-Aussie appearance the Efijy owes design platform to the Chevrolet Corvette, along with its big supercharged LS-Series V8 which was good for around 640 horsepower.
On the concept car side of the spectrum the Efijy sported trick LED lighting, an LCD touchscreen, and deep Soprano Purple paint giving it a modern edge, while the custom look comes courtesy of huge 20- and 22-inch wheels. There was just only about 1 inch of ground-scraping clearance which was achieved thanks to air suspension.
5. Holden Marilyn Monaro Convertible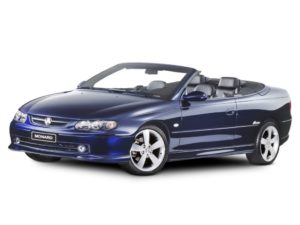 Many people would agree that every good coupe deserves a drop-top counterpart, right? Well that was at least the thinking behind Marilyn, which was a working prototype of a potential Monaro convertible. Marilyn was built at a cost of around $2 million by TWR Engineering in the UK, the left-hand drive convertible was kept a secret by Holden for around two years before being displayed publicly.
But, like so many concepts before it, the Monaro convertible was ruled out for production and this time thanks to the age of the Commodore platform, which wasn't up to the task of supporting a roofless vehicle without extensive and costly re-engineering. This would of priced this convertible out of the price range of most of it's potential buyers. That was something Holden wasn't prepared to undertake so late in the platforms life.
6. Holden Sandman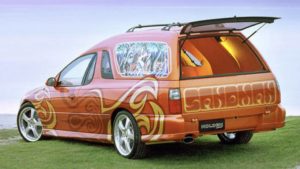 In 2000 Holden teamed up with the surf wear brand Mambo for a reimagination of the iconic Aussie Sandman panel van. But, very few could have predicted the reaction from the former owners as they were transported back to the most significant era of their lives.
The Sandman was based on the VU ute, but it was equipped with an enclosed rear. It took a light-hearted look at Australia's surf culture through a "bushfire" orange paint job and "burnin" love" interior treatment completed with red leather and orange suede that extends all the way to the rear "chillout" zone. I think you can imagine what's next?
This was the absolute calling card of the Sandman concept, the bush and beach goddess murals on each side of the van, based on designs by Mambo's art director. These airbrushed murals were later modified for the sake of modesty for when the car visited the Detroit auto show, following a complaint from a construction worker on-site.
While the Sandman itself may not have been revived at the time, owners were at least able to option the canopy for their ute.
7. Holden Utester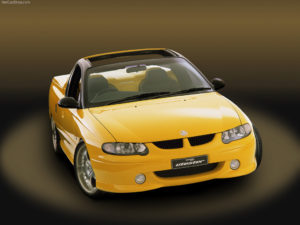 Nothing typifies to the Australian way of life like throwing your surf board in the back of a ute and hitting the beach for some waves. That's great, except that utes aren't ideal beach vehicles with a roof in the way. That was until the Utester concept was designed to fix that problem.
Since the Commodore Coupe concept of 1998 along with the Monaro, in 2001 the Utester Concept showed up as a possible future direction for a Commodore-based ute that was more focused on play then work. Utester stood for a ute and roadster combination.
At the centerpiece was a glass targa roof panel that unclipped from overhead and stowed in a dedicated compartment housed in a hard lid right behind the rear glass. A black and yellow paint treatment helped make the Utester look a little different from a regular ute, with the theme repeated in the interior as well.
While the Utester would never go into production, because Holden executives believed the production costs would be greater than their sales of the UTE & Roadster vehicle could sustain.
8. Holden TT36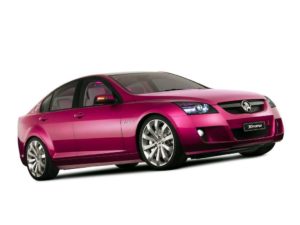 In 2004 Holden would rock Aussie automotive enthusiasts once again. This time with a potential BMW 3-Series rival called the TT36. It was unavoidable to look at it's shade of hot pink called ManGenta with a clinically white interior. It was a bit over the top for some.
Holden set out to create a new mid-size car which would complement the larger Commodore. With Holden's design team even going to the trouble of developing a new rear-drive platform to underpin the concept which laid the basics of what eventually made it underneath a Cadillac in the US.
Under the hood sat a twin-turbocharged 375 horsepower version of Holden's then-new 3.6 liter AlloyTec V6, and at the rear a lift back tailgate, which had journalist calling the concept a reborn Torana in no time.
Although the TT36 never did reach production, if you look closely, you'll find plenty of borrowed design cues from the VE Commodore, which was still two years away from making its debut.
Items like the doors, steering wheel, and infotainment system screen were all there to preview the next generation Commodore. Even the overall look gave away some of the VE's secrets, just in a smaller, more sportier package.
9. Monaro HRT 427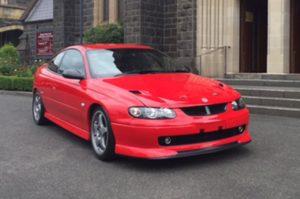 In 1998, the Monaro was an instant icon when it first appeared, with it's thumping V8 and sleek roof line, but the team at HSV always figured the car needed more, and in the case of the HRT 427 the Monaro got a lot more.
As far as concepts go, this HSV Monaro special edition was less about design and more about brute power. The 536 horsepower 7.0-litre LS-Series V8 engine under the hood gave it raw power. Of course the big engines are fine, but with a name connecting the concept to the Holden Racing Team there needed to be more.
So the HSV team added an integrated roll cage, massively upgraded brakes, a bespoke suspension design, and subtle but effective aero additions making the Monaro HRT 427 a genuine supercar competitor. HSV ran the numbers on building 50 of them and came up with a final figure of over $200,000 per car.
As a result of the high dollar price tag, Holden put this project aside, although two were built and one managed to make its way into the hands of a collector and has since changed hands multiple times, while the other remains the property of Holden's HSV division.
10. Holden Coupe 60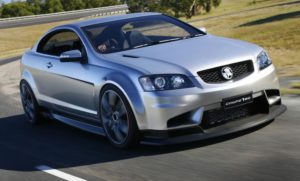 As a 60th birthday present to itself, Holden wheeled out another Commodore-based coupe. But unlike the original Holden Coupe Concept that arrived ten years earlier the Coupe 60 carried clearly a BMW like high performance inspired influence.
There's no doubt a VF based-coupe would've looked every bit as good as the Monaro that came before it, thanks to its long and low roof line and B-pillar less design, abbreviated tail, and it's high-set tail lights.
Although widely tipped as production feasible, the Coupe 60 couldn't meet cost and production targets on the road to production which may be for the best. There's no way the Coupe 60's individual race seats, four-point harnesses, and ground-scraping body kit could have become a reality, meaning an eventual production Monaro would have lacked the concept-made appeal of the 2001 Monaro. The Coupe 60 sure was a great looking machine, but it would just not be affordable for most of it's targeted buyers.
Holden Concept Cars Summary

Other GM divisions have also had concepts turned out by Holden including the YGM-1 which has gone on to become the Chevrolet and Holden Cruze, and more recently the Buick Avenir sedan and Chevrolet Bolt concepts. These were all designed and built at Holden's studios.
Holden division will maintain a design and engineering presence in Australia after manufacturing operations cease. This will make it one of the few global General Motors design centers that'll be capable of building a concept from the ground up. This will ensure plenty more Holden concept cars in the future for sure.
Save